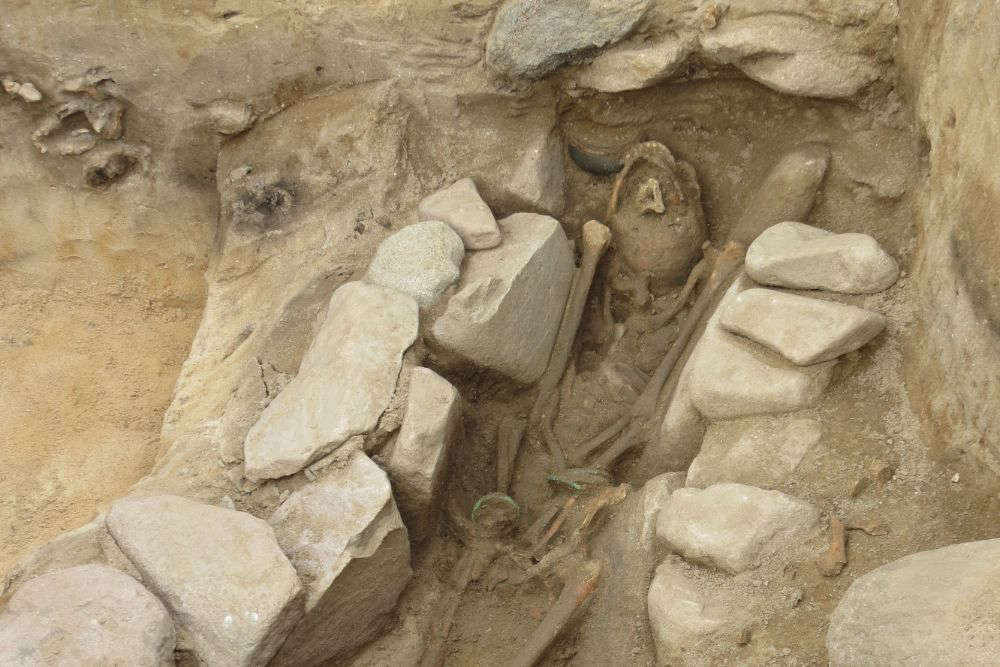 An Iron Age skeleton being excavated in 2019. Courtesy of Dr Phil de Jersey.
A three week dig hopes to uncover more evidence of Iron Age and Roman settlements in Alderney.
The dig begins on Coronation Day (6 May) until 27 May in an area behind the gardens at Coastguards on Longis Common.
The States archaeologist, Dr Phil de Jersey, says recent digs, and a geophysical survey last year, show the area is rich in Iron Age and Roman structures and artefacts:
"More or less everywhere that the survey was done there looks like there is some good archaeology there. We're particularly looking at 1 metre to 1.5 metres down, which is where we got lots of Roman settlement before, in the field next door."
Dr de Jersey says the area was almost certainly Alderney's main settlement, because at that time its port was the nearby sheltered Longis Bay, which is just eight miles from France and an ideal stop off on the journey to or from England.
"We aim to find out more about the people who lived here and why such a small island has such a concentration of archaeology. The evidence so far points to Alderney playing a key role in the trade routes that ran along the Atlantic coast of France for over a thousand years."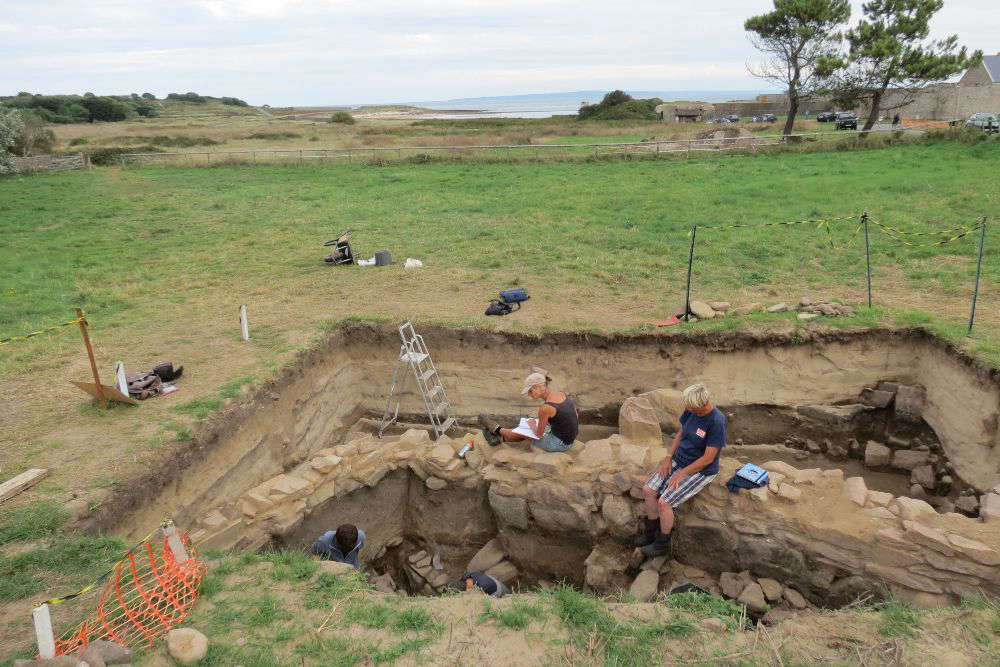 The sand isn't acidic, unlike the clay found in Guernsey, which is why the remains are in such good condition. But Dr de Jersey says the sand is the reason that habitation of the area ended:
"People actually wrote down and recorded these major storms in the 11th and 12th centuries that brought in literally metres of sand on some occasions, so I think it just became unlivable."
Phil de Jersey is personally most interested in the Iron Age, but to get down to that, you have to excavate the Roman remains, which he says show how they built small towns in outposts like Alderney:
"I'm going to say a grided system. I don't want people to think of blocks, like New York city, but there is an element of regularity to it, for the Roman settlement. Probably with small houses, workshops, and shops, possibly."
Fellow archaeologist and former head of Guernsey Museums, Dr Jason Monaghan, will also be at the dig:
"We have discovered that an extensive Iron Age cemetery lies at the west end of the common, and it includes the graves of wealthy individuals. Built over the top of it is a Roman settlement in an excellent state of preservation. This is a site of European importance."